"Remember to keep Holy the Lord's Day" – Ex. 20:8
Holy Sacrifice of the Mass
Sundays
Low Mass
A simplified Mass that is not sung, nor assisted by a choir. It also has no incense.
6:30am | 8:00am | 9:30am | 1:00pm
High Mass
A full ceremonial Mass that includes singing by the celebrant and the choir or congregation. Also has incense.
11:00am
Weekdays
6:30am Daily at the Carmelite Monastery
8:30am Monday – Saturday at OLMC
7:00pm Friday at OLMC
Adoration
Weekly on Thursdays from 7-8pm
First Friday of the month all day
Confessions
Half hour before all Masses
8-9:30am and 3-4pm on Saturdays 
"IF ANY MAN THIRSTS LET HIM COME TO ME" - JN. 30:37 DOUAY-RHEIMS
Baptism
Baptism gives our souls the new life of Sanctifying Grace, by which we become children of God and heirs of heaven.
First Communion & Confirmation
The Holy Ghost is given in Confirmation to mature us in the life of grace, and in Holy Communion we receive the Body, Blood, Soul and Divinity of Our Lord Jesus Christ.
Marriage
Marriage is an indissoluble bond between man and wife, established by God, ordered toward the procreation and education of children and the good of the spouses.
Confession
Confession is the sacrament established by Christ, whereby He intended sins committed after Baptism to be forgiven.
Anointing of the sick
Anointing of the Sick brings spiritual and sometimes physical strength during illness, and prepares the soul to depart this life and enter the next.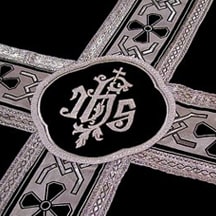 Funerals
Funeral rites are offered on behalf of the departed soul, to shorten his time in purgatory and speed him on his way to heaven.
Available Classes
Classes offered to help you increase your knowledge of the faith and grow in the spiritual life.